This film is an interesting take on the zombie flick which only hints at the dreaded walking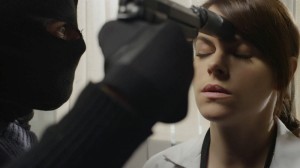 dead outbreak throughout. A magic serum has been found for people who have been bitten which makes them "returned" to normality.
The problem develops when supplies of the serum start to run out and people begin to revert back to their original state. People start hoarding serum and cutting each others throats to get their hands on what is left of the dwindling supply.
I have long felt that the zombie flick in contemporary times is a metaphor for how we feel as a society about ice/drug users and the uncontrollably violent way they affect our lives, films like 28 Days Later support this hypothesis.
It is therefore interesting that The Returned suggests throughout that our fear is unfounded and that medical solutions exist, just as they do for people with drug problems. Posing as the more violent the people who are against the "Returned".
I'm not sure how that stands up in terms of the ice/drug epidemic affecting our society, but this is what makes this film somewhat more important than the other Zombie films in recent years.